Think there is nothing more to Catanzaro than spicy morzello, tourist-free beaches or outdoor markets? Think again. In 1962 the Province of Catanzaro constructed a landmark bridge that would become the symbol for Catanzaro and would serve as the welcoming beacon for this regional seat.
The massive single-arch concrete bridge connects downtown Catanzaro to the western suburbs and crosses the Little River, or Fiumarella that divides the city. The bridge is 1,536 feet long and rises 360 feet from the valley. The arch was constructed from two independent half-arches which combine and stretch 758 feet in width. In 2001 the bridge was illuminated and named Il Ponte Bisantis, in memory of Catanzaro native and Repubblica Italiana senator, Fausto Bisantis.
The bridge is the second largest concrete arch bridge in the world and boasts the second largest arch in Europe.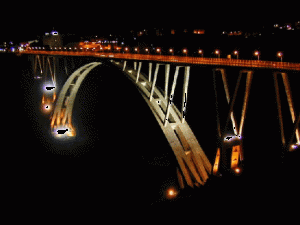 And it's pretty impressive at night, too don't you think?
The second picture was found on Calabria2010.com.