If I had to point out one thing I just hate about living in Italy it is this … the food is so damn addictive. It also ruins your taste for Italian-American food-food you used to love, like Fettuccine Alfredo or Chicken Primavera … things you thought were really Italian. So, all this month we're featuring classic authentic Italian pasta recipes that you can easily recreate at home.
To add a splash of diversity to the Calabrian-specific recipes I usually talk about, I've asked some of my Italophile friends from around the world for their favorites. (And if you'd like to submit your favorite authentic Italian pasta recipe, let me know and we'll get your recipe in the lineup!)
Today's Florence-based foodie is Katie, from Olio di Oliva e Sogni di Vino and she's taking us back to when she first met and fell in love with one of her favorite standby dishes-Pasta Aglio, Olio e Peperoncino.
***
From a chocolate-filled brioche in the morning to spaghetti alle vongole on the seaside, it is tough for me to choose just one favorite dish from the Italian cucina. But I'll try. One of my favorite things about Italian cooking is the simple, fresh ingredients they use to create their masterpieces. So, with that in mind, I've done the impossible and chosen a favorite.
Pasta Aglio, Olio e Peperoncino
My friend Giulio introduced me to this dish back in 2005. I had never heard of aglio, olio e peperoncino (garlic, olive oil and pepper) pasta and prior to that day and wasn't quite sure how I felt about spicy red pepper adorning my plate. After I saw how easy it was to recreate and how it is filling, yet light, I was hooked.
I watched Giulio finely chop the aglio and then warm the olio until it was just hot enough to add the garlic. Cooking the spaghetti until it was al dente, he added it to the garlic and olive oil mixture. He tossed the spaghetti until it was coated with the garlic-infused olive oil and added a generous dash of red pepper flakes for good measure.
Since that day, this dish has become a staple in my house and I've altered it many times over, depending on my mood. Here is a basic recipe for pasta aglio, olio e peperonicino. There are no exact quantities, so add as much or as little as each ingredient as you want to suit your taste.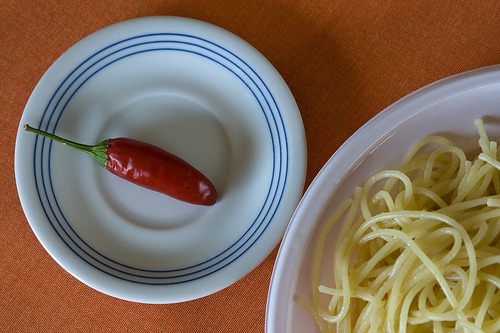 Ingredients:
>> Spaghetti
>> Extra virgin olive oil
>> 1 or 2 cloves of garlic ( I am a garlic addict)
>> Peperoncino
>> Salt
>> Parmigiano Reggiano
Directions:
1. Cook your pasta al dente in salted water. Keep about a cup of the hot, salted water to use later.
2. Crush the garlic with the heal of your hand (to keep the flavor).
3. In a saucepan, cook the garlic and olive oil on low heat.
4. When the pasta is ready, add it to the olive oil and garlic mixture.
5. Toss with crushed red pepper flakes-as much as you can handle-and add the salted water you kept from the pasta.
6. Top with freshly grated Parmigiano Reggiano.
Buon Appetito!
* Tip: If fresh garlic and red pepper flakes aren't staples in your kitchen, then check your dry spice aisle for a pepper/garlic mix.
Katie Greenaway is a freelance travel writer and is the local expert of Florence for Nile Guide.
Traveling to southern Italy? Click here to see how I can help you plan your trip to Calabria or southern Italy.
Photos: Antonio and Godzillante via Flickr