Many Calabria-bound travelers are unsure of how to get to Calabria without either driving from their first point in Italy or taking a train from their international arrival point, which is usually Rome. Given the overwhelming number of times I've been asked about airport options-and the few times I've been told, "I heard there are no airports there," I thought I should clear things up.
Calabria is serviced by three airports-Lamezia Terme International Airport, Reggio Calabria's Aeroporto dello Stretto and the Sant' Anna Airport in Crotone. *All three of these airports are easy to navigate and offer direct flights from major Italian destinations. Here is a breakdown of what to expect in each of Calabria's airports.
Lamezia Terme International Airport (Airport Code: SUF)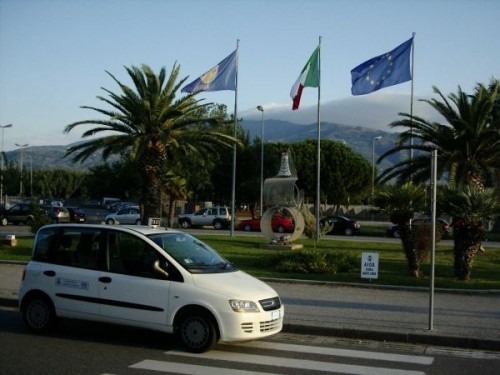 Lamezia Terme, located in central Calabria is home to the region's biggest and busiest airport. Still … it is all relative. The airport has flights to Italian destinations such as Rome, Milan, Venice, Torino and Bologna and international destinations in cities in Germany, France and Holland. Seasonal flights are available on AirTransat to Montreal and Toronto.
The airport has both paid and free parking lots, on-site rental car agencies, a restaurant and bar, Calabrese souvenir shops and offers paid transfers to the nearby Lamezia Terme Centrale train station.
Società Aeroportuale Calabrese S.p.A.
S. Fufemia Aeroporto
88040 Lamezia Terme (CZ)
Telephone: +39.0968.414333
Email: [email protected]
Aeroporto dello Stretto (Airport Code: REG)
Aeroporto dello Stretto, or Airport of the Straits, is a nice option for travelers who want to visit southern Calabria. The airport is smaller than Lamezia and offers domestic flights to places such as Rome, Milan, and Bergamo and international flights to Paris, Madrid and Malta.
The airport has two parking lots, various Calabrian-focused shops and a self-catering bar. Transfer services are available via boat, bus and car and various car rental agencies are located outside the airport.
Società di Gestione per l'Aeroporto dello Stretto
Via Provinciale Ravagnese, 11
89131 Reggio Calabria (Italy)
Telephone: +39.0965.640517
[email protected]
Aeroporto Sant' Anna (Airport Code: CRV)
Sant' Anna is the smallest of the three airports and is used mainly by business travelers who commute between Calabria and Rome, Milan, Bologna, Venice or Brescia. However, it is also useful for travelers to be aware of the airport, as I once saved several hundred dollars by flying into Lamezia and out of Crotone.
The airport has both free and paid parking, a small restaurant and a few shops. Car rentals and taxis are available.
Società Aeroporto S. Anna S.p.A.
S.S. 106 – Loc. S. Anna
88841 Isola di Capo Rizzuto (KR)
Telephone: +39.0962.794388
Email: [email protected]
* This information was accurate at the time of publication, however routes and destinations vary by season and change often. Please verify routes by visiting the airport's website (listed above).
Until next time … Buon Viaggio.
Traveling south? Click here to see how I can help you plan your trip to Calabria or southern Italy.
Photos: Bakeca Milano,Wikipedia Commons and Provincia di Crotone
***I want to send a grand AUGURI to my little sister who is hitting a milestone birthday today and entering the first year in her new decade! Happy Birthday, Charlee! ***