I've been in Italy more than four years and lately I've noticed I've started to take some of my favorite things for granted. Oh, I still appreciate mountain views and still get tingly when I see Stromboli from our friends' house across the province. But some of my favorite traditions, especially the southern Italian food culture are becoming second nature.
These past two weeks we've been blessed to have group after group of American tourist visit our bed and breakfast, and it's been refreshing for me to see southern Italy through their eyes.
I made a list and plan to write more about my favorite southern Italian traditions and experiences but today, like so many days before, my appetite is taking over and we're talking about food.
There is more to southern Italian food than the products and actually, I've written about my favorite foods, the precious pepper, Calabrian specialties and recipe after recipe after recipe … so we aren't going to go there today.
Instead, I'm going to talk about the process … the courses … the luxury that is lunch in southern Italy and how my friends and family back home hate eating with me now because I take too damn long to finish my meal.
But oh, how I love it.
I usually tell my clients to expect to spend several hours at lunch.
"You weren't kidding," someone told me recently. "We were there three hours!" He laughed then told me how they ordered, what they ate and how they waited in the restaurant without being pushed or pressured until they were ready to go.
And really, what else are you going to do?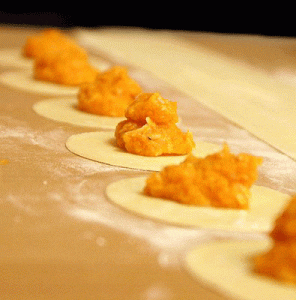 In most places in Calabria shops and museums are all closed for the afternoon riposo and everyone else is at home enjoying their own leisurely lunch.
No, I don't believe all southern Italians still have a three-course meal every day for their mid-day meal … I know my Italian family doesn't … but it is a different story when you dine out.
One of my favorite experiences is going to a family-run restaurant with a group of friends at lunchtime.
Sometimes we get menus-but not usually-and the waiter goes through the list of homemade specialties … antipasto … pasta, risotto and gnocchi … second plates and side dishes … . We pick and choose from his recommendations and usually end up with enough food to feed a group twice our size.
Laughter flows like wine and a few hours later we look around the table-embarrassed by all we ate and mortified by all we left-and decide whether or not to order dessert. They'll bring coffee and digestive liquor and we'll sit some more, until finally someone says they need air … or they have to walk … or they're going to die.
Then, we'll walk arm-in-arm, either along the beachfront or around the winding mountain roads until our protruding panchie will allow us to sit in the car for the drive home.
Visitors to the area see people eating like this and wonder how anyone can eat so much food, "and stay so thin," they add.
And the truth is, I don't know. I don't believe southern Italians eat "like this" all of the time. I think for them, as it is for me, eating out with a group of friends, spending a half of a day on lunch and going through the process of enjoying the company and food-in what order, I'm not sure-is a special occasion. Maybe they just take that occasion more seriously than the rest of us.
Have you ever had a long four-or-five course Italian meal? What was your favorite part?
Traveling to southern Italy? Why not sign up for my newsletter to get even more inside information on living and traveling in Italy.
Photo: Viaggiando