The culmination of a year of collaboration with my Calabrian Table Tour partner-in-crime, Tania Pascuzzi (In Italy Tours), paid off last week as we welcomed seven bright-eyed adventurers into our favorite little corner of Italy.
I met the group at the airport, along with our handsome guide/interpreter Andrea (who all the ladies tried to squeeze into their luggage for the trip back home) and our sweet but far-from-bilingual driver, Francesco. Somewhat quiet and timid on the ride to the Pollino, the group quickly meshed and by the end of the first night were already holding hands as they hiked to a hidden monastery and were singing, hopping and most-of-all laughing with each other as we danced the Tarantella.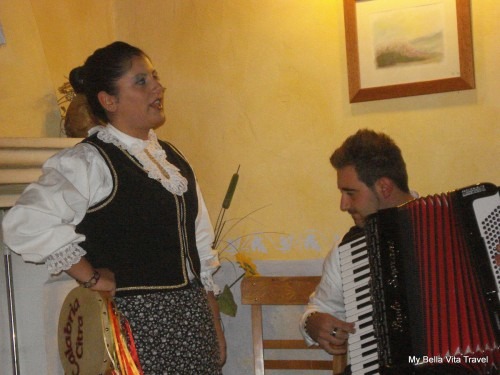 The next few days were filled with a combination of long lunches, free-flowing wine, ruined castles, deep gorges, high peaks, pasta-rolling, cheese and wine-tasting and everywhere we turned, musicians, singers and would-be guides emerged to tell us more about "their" Calabria.
After four nights, we bid a sad farewell to our hosts-with the promise of a quick return-and headed south to Tropea. We stopped enroute so the group could have an upscale lunch of Calabrian seafood and chocolate tartufo and a secret behind-the-scenes visit to a local factory.
From Tropea, we ventured out to a nearby farm and learned the art of baking Calabrian bread and homemade pasta before feasting with the family on homemade *everything* – including, but not limited to, sopressata, 'nduja, ragù, eggplant, peppers and pies.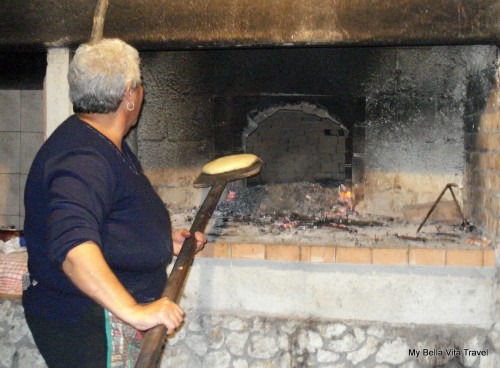 We wrapped up our week at the luxurious private villa of one of southern Calabria's most renowned chefs where we made crespelle (a specialty from my part of the boot) and enjoyed what was likely the most exquisite seafood meal I've ever had.
So many times throughout the week I forgot I was working … the group was tremendous and after a few days it didn't just "feel" like I was with friends-I truly was. I left the tour Sunday with the renewed energy I believe vacations were intended to instill. Tour members kept thanking me, but their comments-such as, "after four trips, this is the first time I've seen the 'real' Italy, "this is the best vacation I've ever had" and the heartfelt "you pulled it off, kid!" are words of thanks I'll never forget.
Tania and I are incredibly proud of the tour and are thankful to our guests for coming along on the first annual Calabrian Table Tour. We have already had dozens of requests for 2012 and will have our new dates published in the coming weeks. But until then, I'm going to have to find me a treadmill and a new pair of sneakers. Table tourin' isn't without its drawbacks. Or should I say, drawstrings. Which are the kind of pants I'll be wearing if we keep this up.
Until next time … cin cin!
Are you heading to Calabria? Click here to see how I can help you plan your trip.