Sicily is one of the most diverse regions in Italy, so it is darn near impossible to narrow it down to just five places you should consider visiting.
But I tried.
A few months ago, I quizzed our Italian B&B guests, particularly those from Sicilia on their choice of top five places to go.
Here's what they said.
1. Cefalù
This romantic beach resort is just 40 miles east of Palermo and is built on the site of an ancient Sicanian and Greek settlement. In addition to the striking beaches, the medieval historical center is filled with winding side streets and a large cathedral. I literally gasped when I saw it (corny, I know) but it is *that* stunning.
2. Palermo and Monreale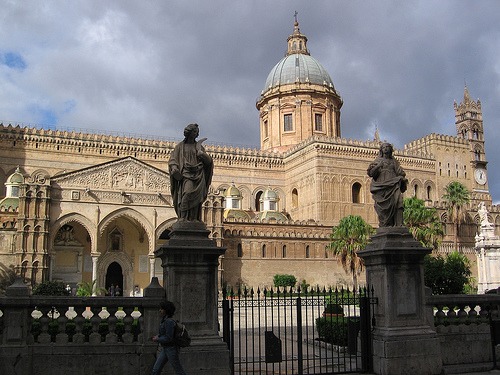 Yes, Palermo and Monreale are two different places, but the Sicilians I spoke with recommended you get a two for one when visiting the area. Both cities are dripping with rich cathedrals and a beautiful history. For my list of top 10 things to do in Palermo, see my guest post over at Why Go Italy.
3. Agrigento
Agrigento's Valley of the Temples, or Valle dei Templi, is Sicily's oldest tourist site that was founded around 582 BC by Greek descendants. The magnificent Temple of Concord can be seen as you enter the archeological park.
4. Ragusa
Ragusa is largely overlooked by tourists traveling through southern Sicily, but those who trickle into this part of the Val di Noto are greeted with ancient churches, historical artwork, quaint side streets and a plethora of Baroque architecture.
5. Taormina
Trendy Taormina tops many travelers' to-see list for its dramatic panoramic views and glistening blue waters. In addition to its chic and glamorous feel, the medieval town is well preserved and offers easy access to nearby Etna.
I know, I know. I left off your favorites … eeeek! Which cites and sites do you think I should include in the follow-up?
Traveling south? Click here to see how I can help you plan your trip to Calabria or southern Italy.
Photos: Commons, Mario, TonioMoro, Scott MacLeod Liddle, Stills, fpatrizi