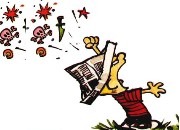 Some of my favorite-and most popular-posts are about the complex, intriguing, sometimes difficult, but always charming … bella lingua italiana. A couple of months ago, Jessica from Why Go Italy shared her favorite Italian words, a week later, I listed five of mine and Melanie from Italofile started a meme that lists favorite Italian words over on her site.
In the meme, Melanie asked us to refrain from parolacce, so I write this post in no official manner and with no affiliation with afore-mentioned Italofile meme.
But really. Everyone loves Italian swear words. In fact, my previous post on the subject is one of my most-visited pages and I often get searched by Italophiles looking to cuss.
So, my friends. Here you have them. Three more of my favorite Italian curse words. In no particular order … .
1. Minchia
The first time I went to Sicily my husband told me to listen up for the word "minchia" … and in fact, we heard it everywhere we went. Minchia, Sicilian dialect for dick, is usually either drawn out, as in "miiiiiiinkea," or shorted, as in "meee," and can be used to express shock, like, "wow, that sucks," or "oh, shit!"
Possibly the funniest time I heard this word, we were walking down one of Palermo's main streets and passed a mom and her-oh, I'd say seven year old-son. The mom pointed at something and the little boy, with his precious eyes and sweet little face responded, "Meeee … ."
2. Stronza
You might be familiar with the more widely used masculine version of the word, "stronzo," meaning "asshole" or "bastard," but, my friends, should you meet a girl you don't like and feel the need to call her an ugly name, you could say … stronza!
I learned this word early on from my husband's cute-as-pie cousin who was mad at a girl from her local gym. She ranted, told us the story and ended with … "Mah! E' una stronza!"
I like it.
3. Che Palle
"Che palle," literally-"what balls-" is used when you want to say something is a pain in the ass. This term is so common down here in Calabria that I can't even remember the first time I heard it. It is usually said with exasperation, as are many significant Italian words, and is followed with a myriad of hand gestures and sighs.
So … tell me. What are some of your favorite Italian swear words?
Traveling south? Click here to see how I can help you plan your trip to Calabria or southern Italy.

Photo: New Like Me