I know it is horrible. But sometimes, even when you live in a culture-rich city, surrounded by steep, lush mountains and deep blue oceans, you get just. a tad. bored. (I know. I said it was horrible.)
So what do you do?
You head out of Dodge. Or in this case, out of Catanzaro.
Although I've lived in Calabria for three years, I've never made the two-hour drive south to the city of Reggio Calabria. Oh yes, I'd heard of it … with their National Magna Grecia Museum and that whole "most beautiful kilometer in Italy" thing. But I'd never seen it.
I was overdue.
So, I gathered up two of my Catanzaro-based expat pals and we made a good 'ole fashioned American road trip to Italy's toenail where we met with a Reggio-based American expat and her Calabrese husband.
They gave us the grand tour, complete with a walk along the "most beautiful kilometer in Italy."
And well, yea … It ain't ugly.
Then we headed to the Museo Nazionale della Magna Grecia to check out those big naked bronze men. And to echo the words of one of my fellow American road trippers … "Che culi!"
No, literally.
These warriors were, oh how do I say this delicately, cast with two of the best butts I've seen in Italy. Or Europe. Or America. Ahem. They are impressive.
Equally as impressive is the fact that these statues were built 2500 years ago and were buried in the Ionian sea until they were discovered in 1972 by a scuba-diving chemist just off of the coast of Riace. The statues' eyes are bone and glass, the teeth are silver and the lips and nipples are made of copper. The intricate curls of the warriors' hair and beards and the veins protruding from their muscles are shocking. You'll want to reach out and touch them.
But you can't.
We ended our day with one last look at Sicily …
A quick group photo …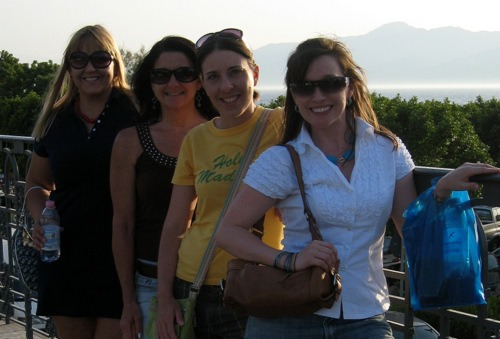 And we set back down the dimly lit superstrada for home.
Have you been to Reggio Calabria? What was your favorite thing to see/do? What is your favorite day-trip destination from your home town?
*Photos aren't allowed inside the museum. This Bronzi di Riace photo is courtesy of sullacrestadelolonda.