In April 2021, UNESCO announced the admission of Aspromonte in Calabria as one of its Global Geoparks. If you've ever visited the Aspromonte region, you would completely understand why. This mountainous National Park located in Reggio Calabria has an extraordinary natural landscape and unique culture that has been drawing the attention of travelers and explorers for ages.
I've always loved spending time in this region, and it's always so amazing to bring my clients to discover this incredibly beautiful part of Calabria. Along with the countless trails you can hike, not to mention incredible views of the Strait of Messina, Mount Etna, and the Aeolian Islands, Aspromonte is also home to so many wonderful and charming villages that will, no doubt, steal your heart!
Gerace
Gerace is without a doubt one of the best-preserved medieval villages in Southern Italy. Its origins are believed to go back to 915 when refugees from nearby Locri headed into the hills of Gerace to protect themselves from Saracen invasions. Sitting high atop a rocky hill, it became a perfect strategic spot overlooking the Ionian Sea. This tiny village once was impenetrable with its well-fortified outer walls and twelve gates (four of which still stand today).
It might be hard to believe, but during the 18th century, this small village had 60 churches and eight monasteries. I guess that's why it is sometimes known as the "City of Saints". Today, Gerace is admired for its 11th-century Duomo, many churches, charming hamlet, and its Norman Castle. And we certainly can't forget to mention "Il Baglio," the area located above the historical center in front of the castle. From here you get a breathtaking view of the Aspromonte landscape.
Gerace makes for a great day trip from Catanzaro or Reggio Calabria and is definitely worth visiting. It's easy to see why this town has been named one of Italy's most beautiful hamlets.
Bova
This ancient village perched on a hilltop overlooking the entire coastline is another one of the many beautiful villages you can find in the Aspromonte region. It is also one of the few places a unique Greek-Calabrian dialect is still spoken. This village is filled with beautifully embellished noble residences and inviting portals that lead you through old narrow alleyways that we just love getting lost in.
At the very top of the village are the ruins of the Norman castle dating back to the 11th century. From this point, you can get a great view of the landscape that surrounds the town as well as the valley below.
This town is full of surprises, including an authentic old steam locomotive that you'll come across as you pass through Via IV Novembre. This very much out-of-place, but equally fascinating train was hoisted up the mountain and put on display in this small square.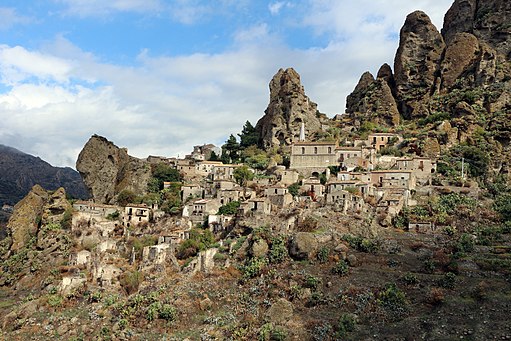 Pentedattilo
Pentedattilo is a ghost town on Monte Calvario, a mountain that once upon a time looked like a hand. The name of the town comes from the Greek words penta and daktylos, meaning "five fingers".
Like most villages in this region, it was originally a Greek colony. Founded in 640 BC, it passed through the hands of many civilizations. In 1783, an earthquake severely damaged the town causing many of its residents to move to Melito Porto Salvo. By the mid-1960s, the town was completely abandoned. In recent years, more and more volunteers and adventurous spirits have chosen to try and bring the town back to life whether it's through excursions, bed and breakfasts, artisan shops, and art studios.
Before heading into the village, stop at the Church of Candelora. From its small square, you can get a really impressive view of the hamlet. Then enjoy the rest of your time wandering through the small alleys of this charming village that seems frozen in time. Outside the village are the ruins of an ancient castle that was home to the Alberti family. The castle has a haunting tale, as it was here on the night of April 16th in 1686 that nearly the entire Alberti family was massacred because of a rival between families.
These are only a few of the villages you can visit as a day trip during your stay in Calabria. If you'd like more info on these or other villages that you can include in your travel plans, please contact us!
Image credit: Sailko, Carmen Guarascio, fabriziosinopoli