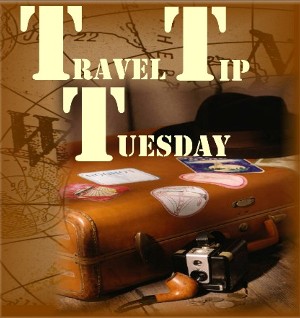 Last month, my globe-trotting friend Andi from My Beautiful Adventures wrote a guest post for our bed and breakfast website that featured five tips for packing for an international trip. If you've been around My Bella Vita, you know I thrive on finding great packing techniques, so today, Andi is back to share four more tips for packing for an international vacation.
Welcome, Andi.
***
As I'm writing this, I'm preparing for yet another international trip – this time, I'm heading back to south America to join my soon-to-be marido, and as always, I'm sticking to my travel packing plan.
In addition to last month's tips that were posted at Il Cedro, here are four more tips-and a few bits of extra advice-on packing and prepping for an international trip.
Split up valuables. Since you never know who might have access to your luggage after you give it to the airline, it is always smart to split up your most important or expensive items-those that won't fit in your carryon, that is-in different pockets or hide them inside your purses or shoes.
Take solid shampoo bars and tooth powder. These items are easy to find in US grocery stores or online and will help you stick to the quart-size liquid restrictions you are allowed in your carryon. And remember, depending on where you are going, there are some countries that ban all liquids in carryons, so solids and powders aren't only your best option – they are your only option.
Pack delicates in a Ziploc bag. Having your underwear, socks and bras all in one place will save you time, plus you won't have to pull your entire luggage apart to find them. Later on, you can reuse the Ziploc bags to either store things during the trip or repack items that need to be washed. Slip the Ziploc bags inside your shoes or purses to save even more space.
Bring snacks. Don't waste countless dollars on overpriced and unhealthy airport food, instead head to a grocery store before your trip and pack some of your favorite treats. In addition to saving money, it could also help you out in a pinch. Sometimes flights don't serve food and depending on your travel arrangements, you could arrive at an airport once the stores have all closed.
Know flying rules. While, this is not a packing tip, it is probably the most important tip of all. It will take only a few minutes of your time to look up the current rules of the airline(s) you are flying. Don't arrive at the airport, when you are already stressed, only to be surprised to find there is a new rule you knew nothing about.
Some other helpful tips include: 1) Only taking magazines or books you don't mind discarding; 2) Same for toiletries, try to bring mini-bottles that you might have saved from previous hotel stays; 3) Purchase a universal charger so you don't have to pack multiples chargers that take up valuable space; 4) Download movies onto your laptop or rent some DVDs from Netflix in case your inflight entertainment is not so entertaining.
What other international packing and traveling tips have you picked up?
Until next time … Buon Viaggio!
Traveling to Calabria? Click here to see how I can help you plan your trip!
Photo: AE-J via Flickr