Carnevale, also known as Carnival or Mardi Gras, typically begins 40 days before Easter with the final celebration on Shrove Tuesday (Martedì Grasso or Fat Tuesday) which then leads into Lent. There are many festivities, parades, and events leading up to Shrove Tuesday, which falls on Feruary 17th this year.
In our last blog post, we talked about one of the oldest and longest carnival celebrations which takes place every year in Putignano in the province of Bari.
Let's continue our preparation for the upcoming Carnevale by taking a look at a couple traditional characters you'll find in some parts of Southern Italy.
CAMPANIA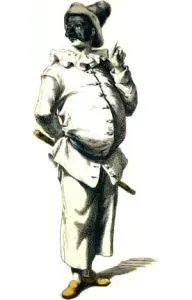 Pulcinella (often known as 'punch' in English) is probably one of the most famous masks of Southern Italy. Created in the sixteenth century, this mask is symbolic for the people of Napoli because it represents the poor working class. Pulicnella is a man who has very little and therefore feels as though he has nothing to lose and as a result is not afraid of the upper classes. He is often seen hunched over because of the constant beatings he is given by higher society.
You will recognize Pulicnella by his baggy white jumpsuit tied at the waist with a black belt tied and long white hat. His mask, covering most of his face, is black with a hooked nose and wrinkles on his forehead.
CALABRIA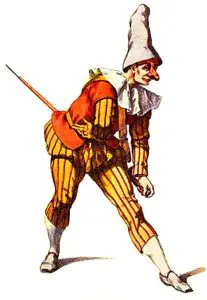 Giangurgolo is a greedy man with an insatiable appetite. He is a man of many words but little action and demands respect even though he doesn't give it in return. This character was believed to be imported to Reggio Calabria to make fun of the Spanish influenced Sicilian nobility that immigrated to the city and other parts of Calabria in the mid-seventeenth century and quickly became the traditional mask of the region.
You'll know Giangurgolo by his huge red nose and tall cone-shaped hat. His costume includes a curled Spanish collar, striped red and yellow bodice and trousers that stop just below the knee, white socks and a huge sword hanging on his side. The red and yellow colors of this costume represent the colors of Aragon and are meant to poke fun at the rulers of Aragon and the Spanish.
PUGLIA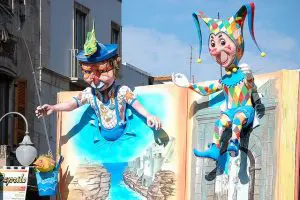 Farinella is another popular carnival character in Italy and it's the traditional mask of the carnival in Putignano. Its name comes from a traditional poor man's dish of the region. Farinella resembles the joker you see on your playing cards.
His costume has multi-colored patches and bells on the points of his hat and shoes. He is a man of peace, often seen separating a cat and dog, symbolic of the disagreements that existed within the population.
SICILIA
Nannu (dialect for 'nonno', meaning grandfather) is a short, plump elderly man who appears to come from a well-off family. This character dates back to the end of the 1800s and is an important part of the the oldest carnival in Sicily, the Carnival of Termini Imerese, in the province of Palermo.  It is tradition to burn a life-like puppet of nannu at the stake at midnight on Martedi Grasso (Shrove Tuesday) representing the end of carnival (abundance) and the beginning of Lent (penance). Nannu leaves behind Nanna (meaning grandmother) usually thin and lanky representing pain and suffering but being a woman she also symbolizes fertility and a chance for a new beginning leading into Spring.
Who is your favourite Carnival character?
Let us know by leaving a comment on the My Bella Vita Facebook Page!
Image Credit:  Vito Palmi