Basilicata, also known as Lucania, shares its borders with three other Southern Italian regions – Calabria, Puglia and Campania. It's made up of two provinces that offer up a landscape of lush forests and expansive mountain ranges.
Lately, Basilicata has been getting a lot of attention recently and earlier this year we shared reasons we love this region.
And much like other regions across the bel paese, it's also home to some magnificent castles. In the past we've shared our favorite castles in Calabria, Sicily, Puglia and Campania, so let's add Basilicata to the list and take a look at our five favorites in this region.
Melfi Castle (Melfi, Potenza)
Many people believe that the Melfi Castle is one of the most important medieval castles in Southern Italy. This Norman-Swabian castle certainly demonstrates its strength and power with its strategical location – it sits on the top of a hill overlooking the town below it. The fortified castle dates back to the late 11th century and was built by the Normans. With the takeover of the Swabians, it was than modified by the Emperor Frederick II. It underwent more changes and modifications, as it changed hands over the course of history. But, despite all these changes it still maintains its medieval style. Be sure to stop into the National Archaeological Museum, located on the ground floor in what was once the "Throne Room", which showcases many important documents that have been found in the area. Also, head to the clock tower, to see one of the castles most prized possession, a Roman Sarcophagus, found in 1856. This sarcophagus depicts a woman who came from a high rank or class, which is illustrated on the lid of the sarcophagus. Walking around this castle, you can take in the incredible views and as you make your way in and around it, you can imagine all the important events that took place here and what it must have been like for the various households that had control of this incredible castle.
Castello Lagopesole (Potenza)
The Village of Lagopesole is located in the northern region of the province of Potenza. Its name comes from the lake near the town, which has since dried up. For a period of time between the eighth and ninth centuries, it was a strong military hold which protected the passage between Melfi and Potenza. This is said to be one of the last castles that was commissioned by Emperor Frederick II before he died. Although Frederick was known for his hexagon design, this castle adopts a rectangular form. And instead of a simple chapel, as seen in many other castles, this magnificent structure houses a real Romanesque-style church. Within the castle, you can learn more about Frederick II through multimedia displays that narrate his life as well as the history of the time period.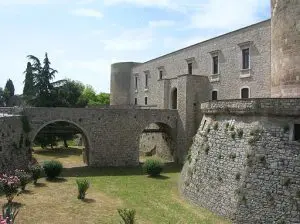 Castello Venosa (Potenza)
Venosa is located in the province of Potenza and is listed as one of "I Borghi Piu Belli d'Italia". It sits on a plateau between two valleys and is surrounded by lush vegetation and rolling hills. Here, you'll find the Castello di Pirro del Balzo also known as the Aragonese Castle of Venosa. The castle was commissioned by Duke Pirro di Balzo and built somewhere between 1460 and 1470 on a pre-existing Romanesque cathedral. The castle is square in shape and has four cylindrical towers. It once had a moat surrounding it which now is dried up but has been replaced with well-maintained green grass and various trees and flowers. The castle is accessed by drawbridge and if you look closely at the entrance of this bridge, you'll see two lion heads that were once Roman ruins. As you enter the castle, you are greeted with a large courtyard surrounded by Renaissance inspired pillars and arches from the 16th century.
Castello Tramontano (Matera)
Matera is quite well-known for "I Sassi", but it also has an intriguing castle overlooking its historical center called Castello Tramontano, named after the Count who called for its construction. The castle has an interesting shape – with one tall, large cylindrical tower in the middle and two lower towers one either side. However, the castle was never completed. The relationship between the Count and the citizens of Matera was a bit complicated. The Count was looked upon with hatred because of the heavy taxes he imposed on the people. This led some of the people of Matera to rally an ambush and kill the Count. As a result, what you see today is only part of what it was intended to be. Although you can't visit the interior of the castle, the exterior is beautiful as it offers wonderful views and is surrounded by a wonderfully maintained park. You will often find theatrical performances here or locals and tourists sitting around enjoying the sun and relaxing on its lush green lawn.
Castello Morra (Matera)
Located in the province of Matera in the town of Valsinni, the Castello Morra is believed to have been built in the early part of 1000s. The castle, which seems to grow out of a rocky outcrop, is quite remarkable because it can be seen from all sides and from the castle you can see great distances. However, this magnificent castle has a tragic story. The castle was home to a young poetess named Isabella Morra who lived in the castle from 1520 to 1546. Isabella had three brothers who suspected their sister of sending poems and letters to a married nobleman named Diego Scandoval De Castro. Not only was he married, he was also the governor of Taranto, Valsinni's rival town. The brothers couldn't fathom that the idea of their sister entertaining any type of a relationship, even if it was only through letters, with such a man. Isabella, only 26 years of age and still quite naïve, continued to write letters to Scandoval, not knowing that it would lead to her tragic fate. She was brutally killed by her brothers in the name of "honor". It is still unknown where the body of Isabella Morra was buried and even an extensive search in the 1920s turned up nothing. But' it's been said that her spirit still walks within the castle in search of justice.
Image Credits: Montemarano Aldo, Arietemarzo, Generale Lee, Mateola, Rocco Stasi