Regardless of where you go, there is one thing you will find pretty much everywhere – street food!
Whether it's called take-away, street-eats, fast food, or cibo di strada; you can learn a lot about a city or region's character and history from its street food.  Street food is mainly sold from food stands/kiosks and eaten on the go while you are out and about.  Given that Italians tend to eat dinner later, street food is a great way to curb your appetite until dinner or for tourists to try different traditional foods without breaking the bank.
In recent years, Italy has seen a boom in the street food industry.  This is partly due to the economic crisis where many aspiring restaurant owners just can't afford to open up a place and instead are taking their expertise to the streets.  And, with the changing work habits of the modern world, not everyone has the luxury of heading home to enjoy a nice long relaxing lunch with the family.  More and more people, mainly in big cities, are having to get something "al volo" or on the fly.
Everyone knows that Italians take great pride in their cuisine and just because its street food doesn't mean they will compromise on food quality.  It's safe to say that you will still be ohhing and ahhing at the plethora of flavors you'll find.
It's obvious that the most famous Italian street food of all is pizza, both in Italy and all over the world.  In Italy, each region has its own traditional or local street food.  So, let's have a look at some of the most popular street foods of the bel paese.

Abruzzo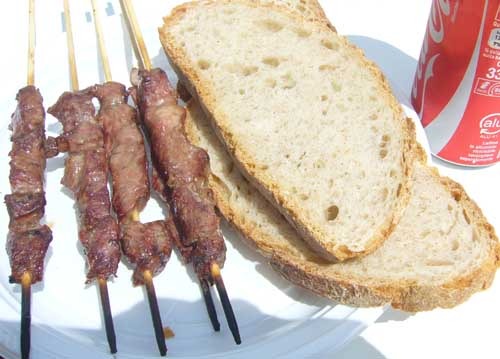 Arrosticini di pecora (Grilled Lamb Skewers)
These sheep and lamb meat skewers are a typical street food in Abruzzo originating in the Province of Pescara, traditionally known for its breeding of sheep and lambs.  Locally produced sheep meat is cut into chunks and put onto skewers.  They are then cooked on a long brazier that resembles a gutter which will contain the fire and the heat required to cook the arrosticini.  The skewers are laid out in a line over the brazier.  It may seem simple and quick, but the Abruzzesi have a precise technique to ensure the skewers are cooked evenly and to perfection.  The arrosticini are usually served with bread soaked in extra-virgin olive oil.  We dare you to stop at just one.
Calabria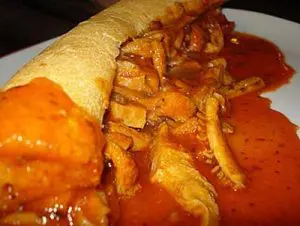 Il Morzello
Morzello is a traditional Catanzaresi dish that you can find in many local sit down and take away restaurants but also sold as a street food during festivals and fairs.  The origins of this dish are linked to an old legend.  According to legend, Morzello, or morzeddhu in dialect, was created when an impoverished mother, widowed and alone, was forced to accept odd jobs to support her hungry children. On Christmas Eve, she was asked to clean a slaughterhouse and dispose of the wastes. Worried about what she would serve her hungry children for Christmas dinner the following day, she saved the disposed meat, cleaned it and prepared a meat soup which is the Morzello we know today.
Morzello involves a plethora of ingredients including veal heart, lungs, spleen, liver, stomach and tripe.  It is cooked in a super hot and spicy tomato sauce and then served in a pitta, a type of bread that is long and able to contain the overflowing ingredients of Morzello.  You'll find the people of Catanzaro eating this famous sandwich usually as a mid-morning snack.  They make it look easy, but be warned this street food is not for the weak of stomach.
Emilia-Romagna
Piadina
Piadina is a simple thin flatbread traditionally cooked on a terracotta dish.  Piadina is best served hot and can be filled with many different ingredients such as cheeses, cold cuts, vegetables and if you'd prefer something sweet, Nutella.  Nowadays, you can find Piadina in take away sandwich restaurants all over Italy.  The great thing about a Piadina is that it's a great light snack that won't way you down like other street foods which are usually fried and greasy and you can also find gluten-free piadine, too!
Marche
Olive Ascolana (Fried Stuffed Olives)
These stuffed olives got their name from the city of Ascoli Piceno, in the Marche region known for their flavorful local olives.  These big soft green olives are pitted, stuffed with beef, chicken and pork which are then coated with breadcrumbs before they are fried.  You will find this delicious treat on restaurant menus as an appetizer as well as served up in wax or paper cones by food vendors.  Either way, you'll be popping these olives in your mouth like candy and we wouldn't be surprised if you ask for seconds.
Piedmont
Gofri
Traditionally from the mountainous region of Piedmont, Gofri are thin waffles cooked in hot irons so that they are crisp on the outside and soft inside.  Traditionally, gofri were used as a substitute for bread particularly in small villages.  However, now, you'll find gofri in small take away restaurants called "gofreria" where you can choose to eat them plain or filled with cold cuts, cheese, jam or chocolate.  They are a great light snack or lunch to keep you going while sightseeing.
Puglia
La Bombetta
You'll find this sought after street food all over Puglia but mostly in Valle D'Itria, home to the world famous Trulli houses.  La Bombetta was originally a poor man's food.  Peasants would take the leftover unwanted meat trimmings and season them with salt, pepper, rosemary and parsley and stuff them with cheese; however now you can find many versions which also include ham.  The term bombetta comes from its small round shape, like a bowler hat.  They were made small so that they could be quickly roasted in the village butcher's oven.  What was once a special treat during the holidays, has become a popular street food for locals and tourists visiting this region.  La bombetta may be small but it gives your palette an explosion of flavour.  It's usually served in a paper cone accompanied with a slice of bread.  Not just any bread will do, only bread from the local city of Altamura will give you an authentic Pugliese experience.
Sicily
Panelle
When you think of Sicilian fast food, thoughts quickly go to arancini di riso (Italian rice balls).  But, if you want to get a real taste of Sicily's street food, why not try panelle.  Panelle is a famous and typical street food in Palermo where food kiosks are a plenty and street food is in high demand.  Panelle are thin fritters made with chickpea flour often served in a round bread roll like a sandwich called "pane e panelle" but can also be eaten on its own.  You'll be amazed at how something so simple can taste so good.
Tuscany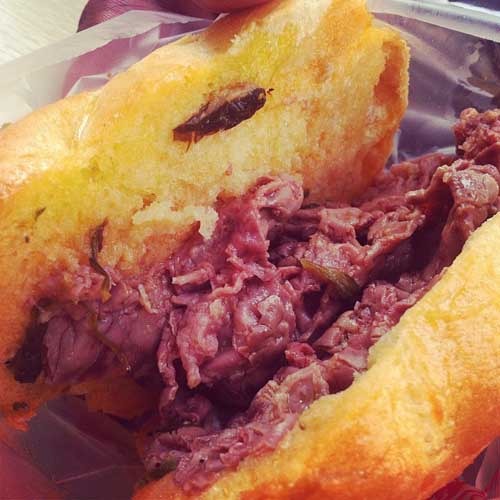 Lampredotto
Lampredotto is a typical dish in Florence, Tuscany.  What was once a poor man's delicacy has become a highly requested and sought after dish.  Lampredotto is made using the leanest part of the bovine's stomach. It is cooked in a broth and then typically served in a crusty bun (usually dipped in the broth of the lampredotto) with a choice of toppings like hot chilli sauce or Italian green sauce.  You will find lampredotto vendors and kiosks everywhere in Florence offering Florentines and tourists a taste of old Florence with a traditional dish that dates back hundreds of years but is still very much appreciated today.
So, let us know, what's your favorite Italian street food? 
Heading to southern Italy? Our custom vacations and private tours are often referred to as "the trip of a lifetime!" Get in touch today!

Image Credits:  Snazzo, Leonardo Angelini, Infinitispazi, mat's eye, Cathrine Lindblom