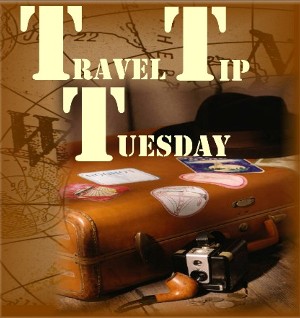 Ahhh … remember the good ole days when we could over-stuff two full-sized suitcases and an overflowing carry on and be waved onto the plane with a smile? Sure you remember. It was last month.
But things aren't going to be so easy from now on, especially for those of you flying domestically within the US. So far even the stingiest of airlines are still allowing international travelers to check two bags without incurring additional fees. I'm holding my breath.
With these new limitations it is more important than ever to pack wisely. Lucky for you, I consider myself an expert packer and I'm going to impart a bit of that wisdom on to you today.
Cherrye's Space-Saving Packing Tips:
>> First and foremost, pack wisely! Carry clothes that don't wrinkle easily and choose items you can mix and match. If I can't wear a shirt with more than one pair of pants or jeans, I don't take it.
>> Same goes with the shoes. I love fancy feet accessories as much as the next gal, but if you can't wear them with more than one set of clothes, leave them at home.
>> Evaluate where you are going and select shoes and clothing appropriately. I went to Paris a few years ago – in January – and knew quite well I would only been "seen" in a heavy coat. I carried a variety of bright scarves and gloves to accent my clothing and wore the same pair of boots for two weeks! I then had to toss them when I returned home because I had literally worn them out, but that is another story!
>> Instead of taking your entire guide book series, photocopy the relevant pages and take the copies. Guide books are HEAVY!
>> Choose 2-3 of your most important beauty items and take those. Leave everything else behind. You really won't miss them. Many hotels offer shower gel and shampoo and most have hairdryers. If you are unsure, check their website or call and ask.
>> Wear your heaviest shoes on the plane and layer your clothing. It might be a hassle to take those shoes off in the security line, but at least you won't have to pay overage on your luggage.
>> It worked when I backpacked around Europe and I still swear by it … ROLL your clothes. You can roll jeans, pants, sweaters, tops … anything! Roll them and stack them side by side along the bottom of half of your suitcase, then fill in the other half with everything else.
>> Pack socks and personal undergarments in the space between the rolls. That's right – forget about that wimpy little sack on the side of the suitcase. It expands when you fill it and consumes valuable packing space. Use that "free space" instead between the rolls of your clothes.
>> Pack breakables inside your clothes. In a recent trip I brought personal picture frames and framed art from the US. I wrapped long sleeved t-shirts and sweaters around the frames, as if I was gift wrapping them, and placed them between the rows of rolled clothes. It worked like a charm.
What packing tips always save you time and space? What is your favorite packing secret? Come on … you can tell us!
Until next time … Buon Viaggio!