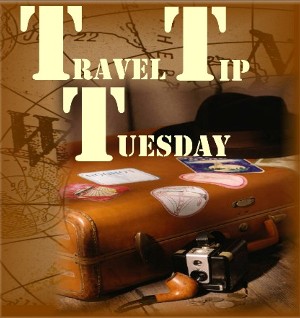 In honor of Rome Week here at My Bella Vita, this week's Travel Tip Tuesday is all about holding on to your dough in the Eternal City. With more than three million residents and 20 million annual visitors, it is easy to see how those rough Roman Gladiators got so tough.
Rome, with its decaying walls, ancient ruins and magnificent churches is one of the most popular cities in the world and is easily in my Top Five … but it can be rough.
A recent guest at our B&B learned this the hard way. Here is her story.
"My husband and I had just arrived in Rome Termini and had a few minutes before we caught our train. I went to the bank and withdrew money and tucked the small coin purse I had exchanged for my over-sized wallet into my shoulder bag.

I met my husband and bought a large bottle of water for our trip. My bag wouldn't zip.

A few minutes later we loaded the train and were instantly surrounded by a group of three 20-something aged girls. They pressed closed to us, one with a baby strapped across her chest. They piled into our cabin and seemed anxious for us to move or sit down.

One of them tapped me on my shoulder. When I turned, she moved.

Red lights were flashing around me, yet I couldn't pinpoint the problem. I finally insisted my husband and I search for a different cabin.

A few minutes after we were seated I saw the girls walk by our window-outside the train.

Then it hit me.

I'd been robbed.
Unfortunately, this wasn't an isolated incident. Although our guest had done a smart thing when she swapped out her large wallet for a small coin purse … she didn't do quite enough. Thieves in Rome-as in most large cities-are good … they are experienced … and they are quick.
Here are four tips to help you hold on to your euros in Rome.
1. Zip it Up
Your purse or bag should have either a zipper or clasp to keep it closed and secured. Use it. I know it can be tempting to leave your bag unzipped while you take a quick pic but it is important for you to get into the habit of closing your bag-every single time.
2. Hold the Knot
Speaking of zippers, many purses have a leather strap or decoration that hangs from the zipper. Keep this end on the inside so thieves can't sneak behind you and unzip your purse when you aren't watching. On the subways, I use my free hand to pull the zipper latch closer to me and cover the zipper area.
3. Split it Up
I've mentioned this with other travel tips in the past, but it is always wise to divide your money and credit cards and put them in various zippers and pockets. My husband and I always split cash and cards between us for added safety.
4. Build a Wall
I know it is easier to talk to your travel partner if your bags are on your outside arm, but this is another invitation for thieves to get to your dough. Always carry you purse or bag on the inside arm, sandwiched between you and your travel partner. This protects your bag and gives you a better visual.
5. Be Aware
Be on the look out for groups of people who seem to pushing toward you for no apparent reason. Many thieves work in pairs or groups, so if you are getting crowded, pay extra attention to your wallet and bags. On a related note, you will likely feel safer if you stay in pairs and don't go out alone at night in an unfamiliar neighborhood.
I'd like to point out that in all of the times I've visited Rome, I've never felt threatened or afraid. But Rome is a city and like many big places, vultures are all-too-willing to relieve tired, over-extended or careless tourists of their big bucks … and that could damper your vacay.
What other tips do you have for holding on to your dough when traveling in big cities like Rome?
Until next time … Buon Viaggio!
And on a side note … Happy Cinco de Mayo!