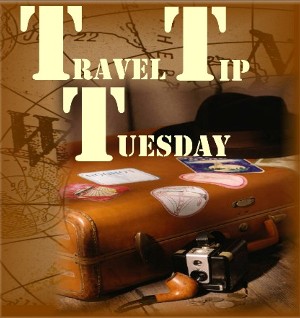 Travel and writing go together like fava beans a good Chianti and for today's Travel Tip Tuesday I'm combining two of my favorite things. I'm talking about travel and writing, we'll get back to beans and wine soon enough.
Last week I received an email from a good friend of mine and a loyal reader of My Bella Vita asking for input on her travel journal.
Here's what she had to say.
A few years ago I started a travel journal but didn't keep up with it on a regular basis. It has journal entries from various trips I've taken over the course of a couple of years. Last year my husband and I started another travel journal during our honeymoon, both adding to it throughout the trip.

My dilemma is, I can't decide if I should I keep a solo travel journal since I periodically travel alone as well as a couple travel journal for when we travel together, or if I should merge all of my travels into one journal?

Also, what size travel journal do you like best and would you recommend to people and what types of things do you include in your journal-for example, just writing or do you include ticket stubs and receipts, postcards, pictures, etc)?
Those are some great questions, Andrea, thanks! I'm gonna do my best to answer them and I'm hopeful other readers will offer comments on their experiences, as well.
There is not a right or wrong way to keep a travel journal, so my suggestion would be to decide on a system of journaling you'll remember to use.
* Since I know you-and know you often travel for work without your husband-I'd recommend you keep two separate books. Your memories from your travels will be different and one day when you want to look over your journals, you'll have all of the vacation memories with your husband in one place and your solo adventures in another.
* As for size, I prefer a 5X8 when traveling abroad-any smaller and I find it uncomfortable, any larger and I wouldn't want to pack it. When I'm out and about here in Calabria, I use a smaller book that will easily fit into my purse or bag.
* When I lived in Paris, I kept ticket stubs and receipts and eventually put them into a scrapbook, but I rarely keep such things now. Many people do though, and again, it is a personal choice.
Here are a few more tips to keep in mind.
* Don't forget to date your journal. I write on the hard back of the front cover and list the places I visited while journaling in that book. Sometimes my writing for a particular place flows into another book. No problem. Just write (Austria 1 of 1 / Austria 1 of 2) on the books.
* Many people recommend getting an unlined book, but since I can't write in a straight line, I need the guide.
* Try out your journal before you buy it … without the ink, of course. Make sure it opens all of the way and is easy and comfortable to use. Check the weight of the pages and make sure you could write on both sides of the paper if you wanted to.
* The journal I'm currently using has a page marker, making it easy for me to find a blank page in a hurry.
Do you keep a travel journal? If so, how would you answer Andrea's questions.
Until next time … Buon Viaggio.
Traveling to southern Italy? Click here to see how I can help you plan the trip of a lifetime.