A couple of months ago I received an email from fellow blogger and travel enthusiast Geggie of So … What Else, What Else, What Else?, who was promoting a fabulous new organization called The 3/50 Project.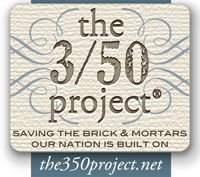 The idea behind the project is to support your local businesses $50 at a time, or actually only $50 a month. Regular customers like you and me pledge to spend $50 a month combined at three locally-owned businesses we'd miss if they went out of business.
While it may seem easier in a place like Calabria, where fresh bakeries, homemade cheese shops and fresh produce stands are easy to find, I still have to make a point to shop with the little guys. As Joe pointed out in a recent post on Italyville, large supermarkets and shopping malls are popping up throughout southern Italy and Bella Calabria is at risk of losing its charm and becoming a cookie cutter destination like many others.
An idea that isn't limited to southern Italy.
Back in my small southeast Texas hometown, my 8 year-old nephew was dismaid when yet another dollar store made its way to our main drag.
"I hate it," he said sadly as he rode past the now-empty buildings of long-forgotten shops.
"Now Kountze looks like every other little town around here. We were just fine before … with Mama Jacks and Brookshire Bros."
And so we were.
So, today I challenge you to join the 3/50 project and help keep small businesses alive in your community. Your kids-or at least your nieces and nephews-will thank you.
In Calabria, I'd miss the bakery and cheese shop that are next door to our bed and breakfast, as well as the shoe store in nearby Soverato. What about you? What businesses would you miss in your hometown?