Rome. Florence. Venice. Tuscany. The Riviera … maybe even Milan.
That's what most people list off when they think of Italy and where many travelers focus their time in the bel paese. But are they missing out by not heading south?
I honestly don't know.
What I do know is that southern Italy is open and warm, loving, generous and forgiving … and I'm not just talking about her inhabitants.
For this Travel Tip Tuesday, I'd like to share five reasons you should visit southern Italy.
1. The "Old Italy" Experience
and no, I'm talking authenticity here. I'd be rightly offended if someone suggested my experience in Italy was anything less than the real deal, so I refuse to think you can't experience "Italy" in the tourist hotspots.
It's just a bit more difficult.
That being said, southern Italy is overflowing with medieval villages and seaside towns that exude our idea of old Italy. Throughout the south, shops still close at lunch, people nap in the afternoons and you can't find a decent place to eat until after 8:00 (if you are an early bird).
2. Slower Lifestyle
Long lunches and afternoon naps might be part of that slower lifestyle, but the mentality of slowing down and enjoying life don't stop there. While it could be frustrating to travelers who are accustomed to opening and closing hours being posted-and followed- on a museum's door, there is something enlightening about waiting 20 minutes while the cashier is on coffee break.
It is something we experience all of the time in southern Italy and it offers you, the traveler, a glimpse into what a southern Italian lifestyle would look like for you.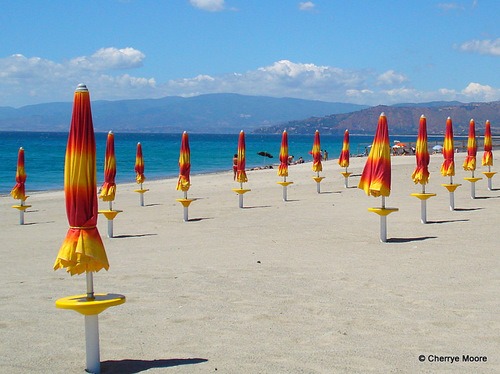 3. Shhh … It's a Secret
Everyone likes to feel like they've been let in on a little secret … that's why middle-school girls gossip and men, of all ages, chat it up in the locker room. Travelers are no different.
When you visit southern Italy, you'll feel like you've been let it on a little secret. You won't find an overflow of tourists in many places and when you get back home, you'll be the one with all of the cool, new Italy stories from the south.
4. No inglese?
Continuing on with that little secret, it shouldn't surprise you to learn that many people in southern Italy do not speak English. When you travel to southern Italy you can immerse yourself into the language of the country because, well, really you won't have a choice.
… and for me, that's part of the fun
5. Genuine Interest
Unlike the citizens in Rome and Florence, most of southern Italy isn't accustomed to seeing tourists-so when you are here, you are loved. If you have even a basic level of Italian and try to hold a conversation with the locals, you'll discover more about the region than you ever imagined.
They know the south is a great place to be-and they're thrilled someone else finally realized it.
What did I leave off? Why else do you think people should head to the bottom of the boot?

Until next time … Buon Viaggio!
Traveling to southern Italy? Click here to see how I can help you plan the trip of a lifetime.