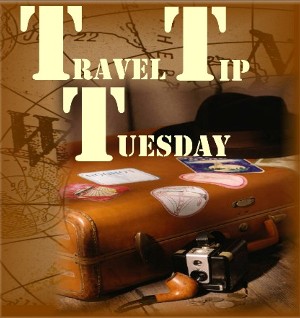 Howdy, gang, and welcome back to Travel Tip Tuesdays! This week, Robin and I are highlighting, what I am sure will be, my favorite reoccurring installment of Travel Tip Tuesdays.
Readers Report … Tips from Real Travelers
As you might remember, Robin and I are both accepting travel tips, ideas, and interesting tidbits of information from you, to share with, well you. I think you get the idea.
Today's tip comes  to us from my home state, and is offered up by one of my new favorite bloggers. Andrea, of Andrea Unplugged blogs about anything that pops in head, and is a regular contributor to Top Five Friday! She is also an avid random photo taker, and loves to share those odd images with the blogosphere.
In fact, Andrea's tip today focuses on getting the best photos. She says:
"When you visit a city, state, or country icon that is simply a 'must have,' always buy a postcard. This is especially important for amateur photographers, so they can ensure they have the best picture available when they return home. These postcards are ideal to accent your scrapbook and complete the overall feel of your travel book!"
And, that's a GREAT TIP, I say! I know I've been burned more than once on photos I think are amazing, then I return home and, well … not so much!
Until next time … Buon Viaggio!