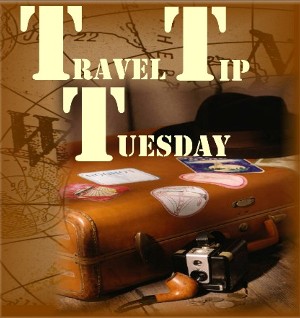 We've discussed tips for packing light, packing well and packing internationally, but packing for the long haul, such as an overseas move or a long-term extended stay is a different story. Where do you begin? What do you take? What do you leave?
Argh! Just thinking about it is enough to make you want to throw in the towel and abandon your move, isn't it?
It isn't?
Ok, then. Here are a few tips I've collected over the years that served me well when I moved both to Paris and to Calabria. Use the tips you like and toss the rest. You'll be throwing away enough of your own things soon enough …
To start with, I divided the types of things I would need into four categories 1) Attire, 2) Health Care, 3) Home Items and 4) Personal Items and went from there. If it didn't fit into one of these categories, I didn't take it. (Although, Wise Gal that I am, I made those categories pretty darn flexible.)
Attire
Proponents of selling everything you own and replenishing your stock in your newly adopted country will tell you that you can buy new clothes when you arrive. While this is true, both of the international places I have moved to are much more expensive than Beaumont, Texas. Your personal circumstances, the weather, seasons and length of time you will be away will affect what you take with you, however I suggest you carry essentials, such as jeans and slacks, a few shirts, PJs and shoes. I am a recovering shoeaholic, so take that last piece of advice as needed and surge ahead.
I also brought accessories, such as handbags, jewelry, hats and scarves. For the most part they are small and can easily be tucked into empty spaces and well, heck, a girl's gotta look cute in her new country … right?
Health Care
Before I moved to Paris, someone, who had supposedly lived there before, told me they couldn't find American-quality tampons anywhere in the City of Lights. So I stocked up on a year's supply of those babies and carried them with me in gallon-sized Ziploc bags. Ahem. You can imagine my surprise when I went on my first grocery run and found an entire aisle dedicated to Tampax.
The lesson here is to do your research. For people relocating to Italy, the forum at Expats in Italy is full of helpful advice and people willing to help you with your move or you can email me and I'll help you out. And for what it is worth, finding tampons hasn't really been an issue for me here in southern Italy, so save your suitcase space!
I do suggest, however that you pack any prescription drugs or over-the-counter medicine you can't live without. It can be difficult-if not impossible-to have them mailed to you.
Home Items
Many soon-to-be-expats are consumed with bringing necessities such as clothes and shoes and don't have much leftover space for home items. This is really a personal choice but on both of my international moves I carried my comforter. In Paris it was the one thing that was really mine in that fully furnished apartment I shared with three strangers and seeing it every day made me smile. Here in Italy it was a reminder that I wasn't "that far" from where I'd been and it was comforting to sleep in something that reminded me of home.
If you don't have room for a comforter, consider packing something smaller, such as your favorite coffee mug, soup bowl or decorative pillow. You will be happy to have that little reminder when homesickness sets in.
Personal Items
Many expats will agree that we love to have our personal pictures and momentos with us in our new countries. I filled an envelope with the drawings my nephew had given me and brought my favorite family photes. I left all frames behind and bought new frames here. If I was  moving today, I would scan all of my pictures and put them on a flash drive or CD and reprint them here in Italy. It is a great way to maximize space and still have your favorite personal photos with you.
Packing for an international move is one of the most difficult things many of us have done. If time and space allow, consider creating a box of other items you would like to take with you at some point in the future or even packing an additional suitcase for your family members or friends to bring when they visit you.
What do you think are the first things you would pack if you moved overseas? For those of you who have moved, what did you bring and why?
Until next time … Buon Viaggio!