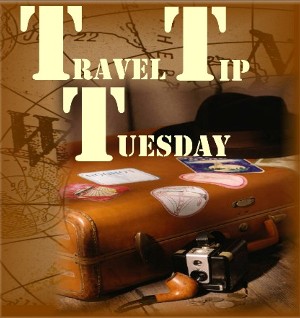 With only 16 shopping days 'til Christmas, every procrastinator and her daughter could use a few gift ideas for their favorite travelers. The Internet is overflowing with gift guides for the tech-savvy traveler, expensive-tastes traveler and even the pint-sized traveler, but this gift guide is just for you.
The practical, well-traveled traveler who is money-wise, sophisticated and savvy.
Sound like you?
Then here you go …. 10 Gift Ideas for Practical Travelers.
Imagine having a pair of slippers that fold up like socks. Travelers can save valuable luggage space and keep their tootsies clean with these bad boys. Sounds intriguing … you never know what could be hiding under the beds in some of those places!
Travelers love reliving their vacations and look for any excuse to retell funny stories, share interesting facts or talk about the incredible architecture and scenery. Imagine if they had a calendar that reminded them of their favorite destination that they could look at every day … aww, aren't you a thoughtful gift-giver?
and
The students who worked with me at LU bought me a glossy red passport holder and matching luggage tag when I moved to Italy. I *heart* that gift … and most avid travelers would, too!
Savvy travelers know it is all about saving space, packing less and pairing necessities, so this all-in-one toothbrush/toothpaste contraption will be a sure-fire hit with your favorite traveler this holiday season … cool, huh?
While the messenger bag in this pic might be pretty nifty, I use a messenger bag purse for all of my flights. It keeps my money and passport safe – because it is strapped across my chest, it frees up both of my arms for other luggage, airport coffee or both. I'll never travel without one.
Ever!
1000 Places to See Before you Die Book and accompanying journal, from $24.00 for set
It is true this book has been around a while, but I've always wanted the set … so it made the list! Plus, can you imagine a more inspiring way to dream about your next vacation or help you set your lifetime travel goals? (Come on, Mom, hint hint …)
Wow … one mini-sized charger for your cell phone, IPod, camera, MP3, Blackberry, and Bluetooth? Incredible. I wish I would have thought of that! If anyone has ever lugged all of their chargers – and most of us do when we travel domestically – they know how handy this little monkey could be for frequent travelers.
I bought a fabulous red (see a trend here?) laptop bag back in the old days – two years ago – before checkpoint-friendly bags were available. I'm still rather attached to my bag and I don't travel with my laptop that often, but this is a must-have travel item for many leisure travelers and all business travelers.
As with my fabuloso laptop bag, I am pretty loyal to my rolling carry-on bag, as well. They say, however that this is *THE* lightest carry-on on the market and as those Grinch-like airlines continue to get all scoogy on us with our weight allowance, this will become ever more important!
Bonus: Splurge Idea (for when you are tired of being practical!)
Weighing in at just 3.3 ounces, this little Flip can record up to 60 minutes of video without a memory chip. Cool.
What are some of the travel-related items on your Christmas list this year? What are you buying for others?
Be sure to come back next week for 10 More Gift Ideas for the Practical Traveler.

Until next time … Buon Viaggio!